Golden Coast Roofing is the #1 Roofing Company in Los Angeles area
Sherman Oaks' #1 Trusted Los Angeles Roofers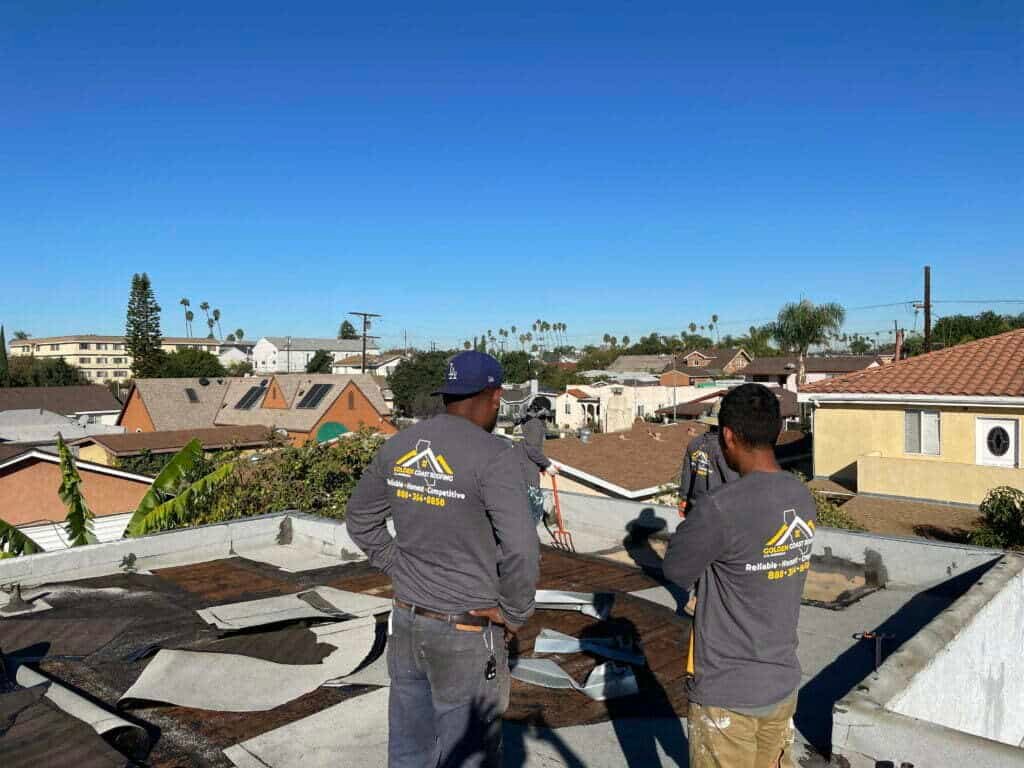 Get to know our team at Golden Coast Roofing before you look for a residential roofing company in Sherman Oaks or start your next roofing project! When you engage a roofing contractor for roof repair or roof replace your existing roof, you should know what they stand for and what motivates them. Discover what drives our team of LA's best roofers, managers, and support staff.
The Most Reliable Commercial Roofing Company in Los Angeles, California
Golden Coast Roofing is a family-owned business serving Sherman Oaks, CA, and the Los Angeles area. When we founded this company in 2020, we wanted to elevate the entire roofing industry in the eyes of LA's sophisticated property owners. Within just a few months of opening our doors for the first time, word had already spread about some bright, honest, hardworking roofers who show up on time, demonstrate mastery over their craft, and clean up after themselves. 
After our roofing company's first full year of work, our support staff started receiving calls from some of the biggest names in Hollywood, beloved politicians, and CEOs of major corporations, all looking for the consummate professionals who exercise complete discretion when on the job site. 
We believe we owe our success to our core values, which include:   
Honesty, transparency, and fairness

 

Commitment to privacy

 

Exceptional craftsmanship

 

Unparalleled customer service

 

Personal responsibility and accountability

 
A Superior Professional Roofing Company in Sherman Oaks, California
At Golden Coast Roofing, our team of roofing professionals strives to become the best within our industry. In furtherance of that pursuit, we stick to customer-friendly practices at every step of the roofing process, from initial contact to final cleanup. Learn a little bit about our roof replacement process and what separates it from those of other roofing companies in Los Angeles.
Accurate, Transparent Estimates
We find it unfair that most property owners automatically expect roofers and other contractors to exceed their quotes. While we understand that it can happen due to hidden issues with a client's roof or rapid market shifts that alter the cost of materials, we believe going over budget should represent the exception, not the rule.
We provide clear, accurate quotes with breakdowns for labor and materials. Our clients know what to expect before they sign on the dotted line.
Advanced Planning and Procurement
Our fully certified team of roofers uses the latest tools and technology at all stages of a new roofing project. During the planning phase, we utilize digital scanners, laser measurement systems, and modern software to avoid any unforeseen difficulties. We also enjoy access to exclusive supply channels, allowing us to install the best materials in the world. 
Excellent Communication
We believe ongoing communication remains essential to avoid mistakes and mishaps during a roofing project. Our experienced team of roofers asks for authorization from our clients before performing any task. In most cases, we request approval for most of our duties up front. However, sometimes, we may need to ask for clearance on the fly during a roof repair. 
Call the Leading Roof Replacement Contractor in Encino Today!
Connect with one of our friendly, professional team members today! Contact us at Golden Coast Roofing by calling (213) 295-6541 to schedule your free estimate and see what it feels like to work with a full-service roofing company.  
Why Choose Golden Coast Roofing?
What Makes Us Different:
•We are prompt and punctual.
•We do what we say and do it within the promised timeframe.
•We are insured and licensed.
•We have a C-39 roofing license, Workers Compensation Insurance (1 Million), General Liability (2 Million) Aggregate and a License Bond.
•We have an in-house crew.
•We employ and train our roofing technicians. This may not sound like a big deal, but we assure you it is. Unfortunately, most roofing companies subcontract projects to other roofers resulting in losing control and quality of the final product.
•We have helpful customer service. When you call, we answer!
Golden Coast Roofing is here for your roofing needs, anytime of the day !