Residential Roofing Services
Golden Coast Roofing — #1 Reliable Residential Roofing Company in Sherman Oaks
Enhance your home's curb appeal with a roof repair or roof replacement from the most relied on residential roofing company in Sherman Oaks, Golden Coast Roofing. Our courteous staff caters to highly discerning property owners who appreciate quality customer service. Discover what makes us the preferred roofers for private homeowners in Los Angeles county.
The Most-Trusted Residential Roofing Services Contractor in Sherman Oaks, CA
Residential roofing is our major focus at Golden Coast Roofing. We install roofs for new neighborhood development projects, roof repair and replace roofs for high-end clientele, and restore roofs for owners of historical homes. Explore our most popular services a little deeper below. 
Residential Roof Installations
Protect your newly-built home with a modern new roofing system. Our team of veteran roofing professionals uses the latest industry-leading tools and technology to perform flawless roof installations for some of Sherman Oaks' most notable residents. As such, we enjoy a stellar reputation for maintaining the utmost privacy and discretion.  
Many of our well-to-do clients prefer to keep their new development projects under wraps. However, they have no problem telling their friends about Sherman Oaks' best residential roof replacement company. As a result, we earn most of our business via word-of-mouth. If you plan on building a new home or apartment complex, contact our friendly staff for a free estimate.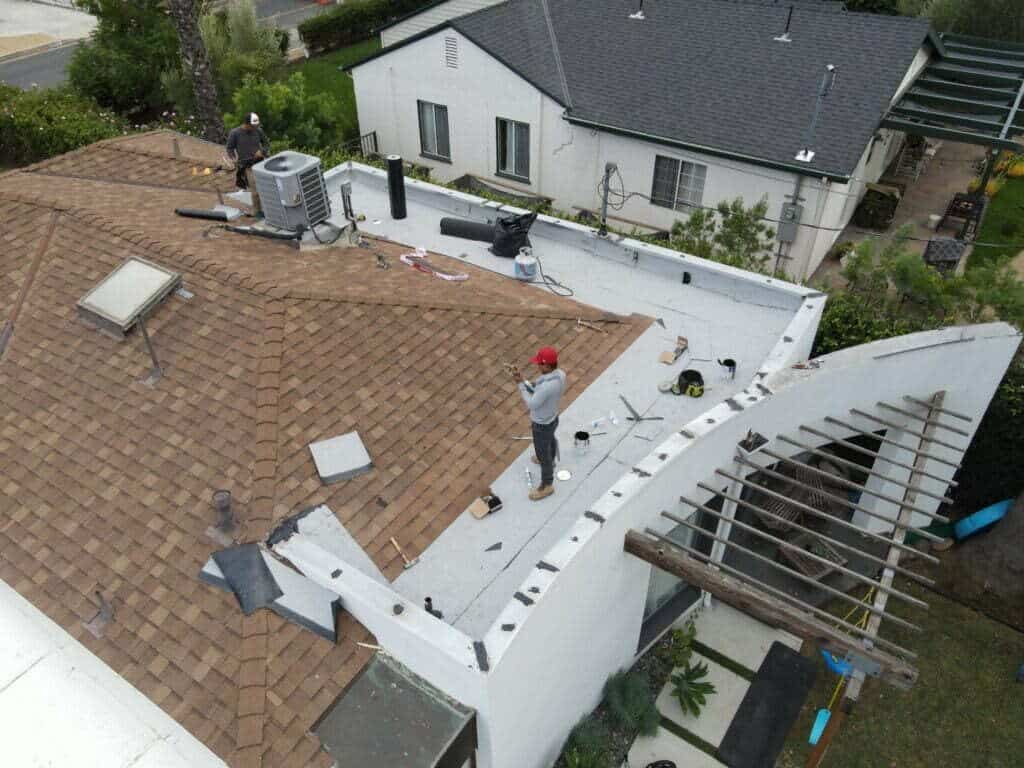 Residential Roof Repairs and Roof Replacements
Fix your roof as soon as possible to avoid a total roof replacement. Sometimes, even small leaks can lead to big problems because part of the damage remains hidden. If you notice a wet spot on your ceiling or moisture on the surface of your roof, call a residential roofing contractor as soon as possible.
A roof replacement represents one of the most complex projects in the roofing industry. The initial teardown before a roof replacement means that it requires more labor and materials than a fresh installation. All Sherman Oaks homeowners should perform basic maintenance and call for prompt roof repairs to prolong the life of their existing roof.
At Golden Coast Roofing, some of the different types of roofs that we repair and replace include:
Asphalt shingles

roof

Clay tiles

roof

Concrete tiles

roof

Natural and composite shake

roof

Flat roofs
Residential Roof Restorations
Protect the local heritage of Sherman Oaks and the surrounding area with residential roof restorations. Some of our most esteemed clients own everything from modern architectural wonders to historical houses, and we demonstrate the versatility and expertise to restore any roof.  
Homeowners come to Golden Coast Roofing for their most difficult, one-of-a-kind roofing projects because they know we can deliver on our promises. Some of the reasons that they choose us as their residential roofing company in Los Angeles include:  
100% Guaranteed customer satisfaction

 

Creative, adaptable roofing solutions

 

Best warranties in the industry

 

Fast, clean, professional roofing services

 
Sherman Oaks, CA's Residential Roofing Company with Premium Services
Preserve your valuable real estate with premium services! Contact our friendly team members today at (213) 295-6541 to receive your free estimate from the preferred residential roofing company in Sherman Oaks, CA..