Commercial Roofing Services
Best Commercial Roofer in Sherman Oaks - Golden Coast Roofing, Inc.
At Golden Coast Roofing, we offer free quotes for all commercial roofing services. Give us a call at (213) 295-6541 to get started. 
Our team at Golden Coast Roofing provides top-quality commercial roofing services and roof installation in and around Sherman Oaks, CA. As a trusted commercial roofer, we are proud to offer the area's leading commercial roof replacement and roof maintenance services. We offer the best options and solutions for your roofing needs.  
When you have commercial roofing installed, you are increasing the value and protection of your building. The right roof can significantly improve your commercial building or business by maximizing efficiency and making it easier to heat and cool the building effectively. 
The Trusted Partner of Sherman Oaks Business Owners for Commercial Roofing Services
Our expert team at Golden Coast Roofing specializes in commercial roofing systems of all kinds, and we can handle projects of any size or type. We work exclusively with industry-leading, best-in-class roofing materials.  
Installing a commercial roofing system can revolutionize how you regulate the temperature of your building while also increasing durability and visual appeal.   
Commercial roofing systems are available in a variety of types, styles, and materials. We provide a range of roofing services for all kinds of commercial roofing systems, which includes:  
Roof Replacement

 

Roof Repair

 

Roof Coating

 

Shingle Roofing

 

Tile Roofing

 

Leaks and other Emergency Repairs

 

Composition Roofing

 

Waterproofing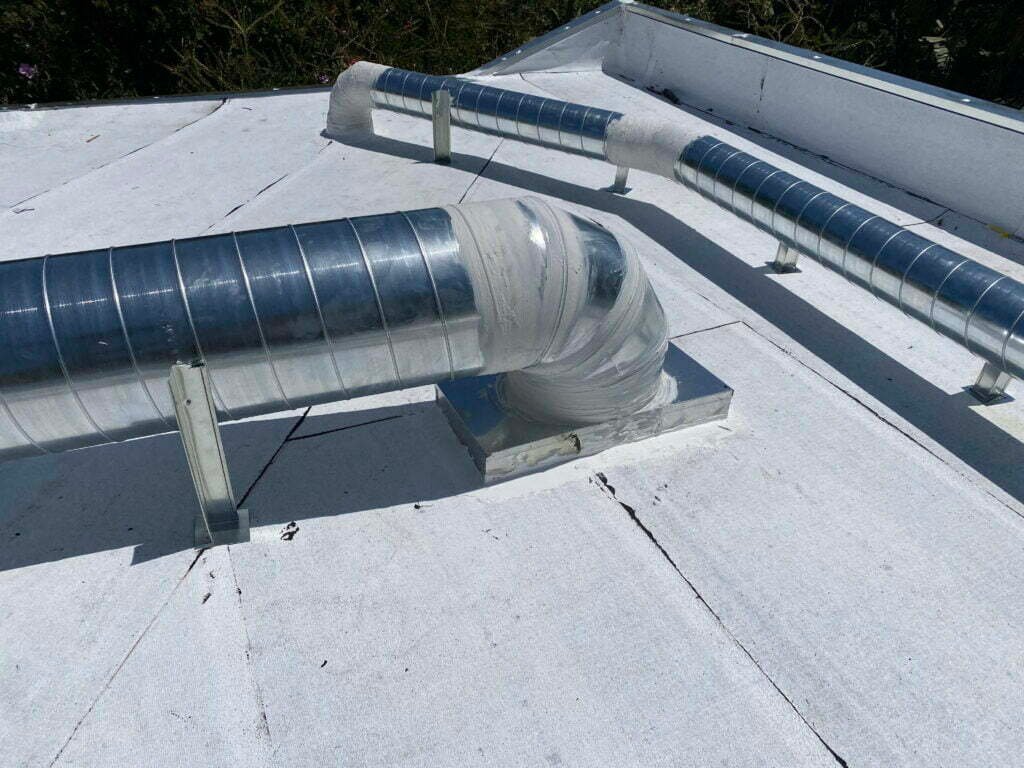 The Best Certified Commercial Roofing Contractor in Sherman Oaks, CA
Each roof has a unique set of requirements, and our highly skilled team of roofing contractors, foremen, and crew has the knowledge and expertise to guarantee superior service.
Many factors will contribute to what kind of roofing services your commercial roof may require, including weather and climate, as well as surrounding plant life.
Some of the popular commercial roofing materials that we can utilize include:
Waterproof coating with silicone

Tar and gravel roofing

Thermoset roofing using synthetic rubber for easy roof installation and maintenance

Thermoplastic Polyolefin or PVC roofing, a highly durable option
A Commercial Roof Replacement Expert in Sherman Oaks That Businesses Can Count On
We feel honored to be a leading commercial roofing company in Sherman Oaks, California. Our exemplary team specializes in residential and commercial roofing services, and we are always ready to provide you with the best options for all of your roofing needs.   
We service all areas surrounding Sherman Oaks! Don't wait another minute to get started with your new commercial roofing system. Call us at Golden Coast Roofing to get your free quote today!  
To get started with your next commercial roofing project and receive a free estimate, be sure to give us a call at (213) 295-6541, or reach out through our contact form here. Our customer service team is also available to answer any commercial roofing questions you may have