Roof Waterproofing Services
Your Roof Waterproofing Expert in Los Angeles County — Golden Coast Roofing
Do you need a reliable roof waterproofing company in Los Angeles County due to leaks, visible moisture, or persistent mold on and within your roofing system? Inadequate roof waterproofing can leave your home vulnerable to leaks, mold buildup, and even serious structural damage.
Don't let your roof deteriorate — contact Golden Coast Roofing, a leading roof waterproofing services contractor offering advanced waterproofing solutions in metro LA.
A Professional Flat Roof Waterproofing Contractor in Sherman Oaks You Can Trust
Waterproofing remains one of the most important elements of preventive roof maintenance. It can extend roof life and prevent costly repairs. At a minimum, roofs require waterproofing once every five years to avoid water damage. 
Golden Coast Roofing installs high-grade moisture protection systems and efficient caulking and sealants. Our roof waterproofing company offers the following services: 
Flat Roof Waterproofing Service
Because of their structure, flat roofs are especially prone to water damage, such as leaks and water pooling. Some property owners opt to use roof waterproofing paint, but paint produces inferior results compared to professional roof waterproofing coatings and membranes.  
Waterproofing a flat roof usually includes:  
Conducting an infrared inspection to locate moisture

 

Flat roof repair of any damaged areas

 

Installing primer if needed and applying the waterproofing system

 
Roof Waterproofing Coating 
A roof waterproofing coating is made of elastomeric material designed either for spraying or for rolling on the roof surface. Roof coatings form a protective barrier against moisture by sealing cracks and gaps. Properly applied roof coatings may help protect the roof surface from degradation and prolong roof life.  
Often, roof coatings also have reflective or emissive properties, which can reduce roof temperature and lower energy costs. 
Roof Waterproofing Membrane
Roof waterproofing membranes consist of a multilayer system that forms a highly effective barrier against water intrusion. A waterproofing membrane seals in all gaps, cracks, and openings that may let in moisture. It also offers some protection from impact damage and UV radiation. 
Waterproofing membranes are suitable for most roofs, including roofs with damaged or uneven surfaces. Roof membranes are easy and safe to install. 
Roof waterproofing membranes cost more than roof coatings but provide more effective and enduring protection against water damage. 
Why Choose Golden Coast Roofing
What makes Golden Coast Roofing stand out among other roof waterproofing companies in the LA metro area?  
Quality. 

We work with high-grade roof waterproofing materials for effective and lasting results.

 
Professionalism. 

Our skilled, qualified team can waterproof any type of roof on residential and commercial properties.

 
Dependability. 

We are fully licensed, certified roofers.

 
Satisfaction guarantee. 

If you notice moisture problems after we waterproof your roof, call us and we'll address the issue promptly.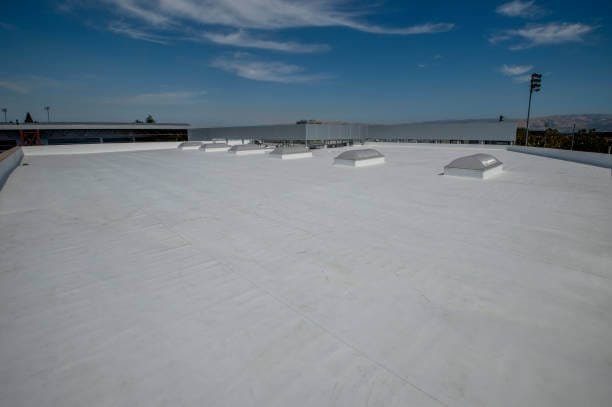 High-Grade Roof Waterproofing Coating Service by Golden Coast Roofing
With Golden Coast Roofing, your roof will be ready to withstand any weather. We use high-quality materials and a skilled team to deliver outstanding results on every project. Request a free quote from the most trusted roof waterproofing company in Sherman Oaks and Los Angeles County today at 213-295-6541.