Flat Roof Replacement Company
Golden Coast Roofing — Premier Flat Roof Replacement Company in Sherman Oaks, CA
Looking for best-in-class flat roof replacement company for your home or business property in Sherman Oaks? Do you suspect you  need a roof replacement due to its age or key signs of damage, like leaks and water pooling? 
For best results on any roofing project, contact the flat roof experts of Golden Coast Roofing. As a leading flat roof replacement company in the Sherman Oaks area, we can inspect your roof and recommend roof repairs, roof coating, or complete roof replacement depending on the roof's condition. 
Work With Sherman Oaks, CA's Top Flat Roof Replacement Contractor Today!
Flat roofs offer multiple advantages to residential and commercial properties. They are easier to install and repair than sloping roofs. Flat roofs may offer extra usable space on top of the building. 
Last but not least, flat roofs are highly energy-efficient, especially in warm states like California, where property owners don't have to worry about piled-up snow. 
The one major drawback of flat roofs is their shorter average life span compared to that of sloping roofs. With proper installation and maintenance, flat roofs can last up to 25 years and more, but many property owners begin to experience problems with their flat roofs after 10 or 15 years.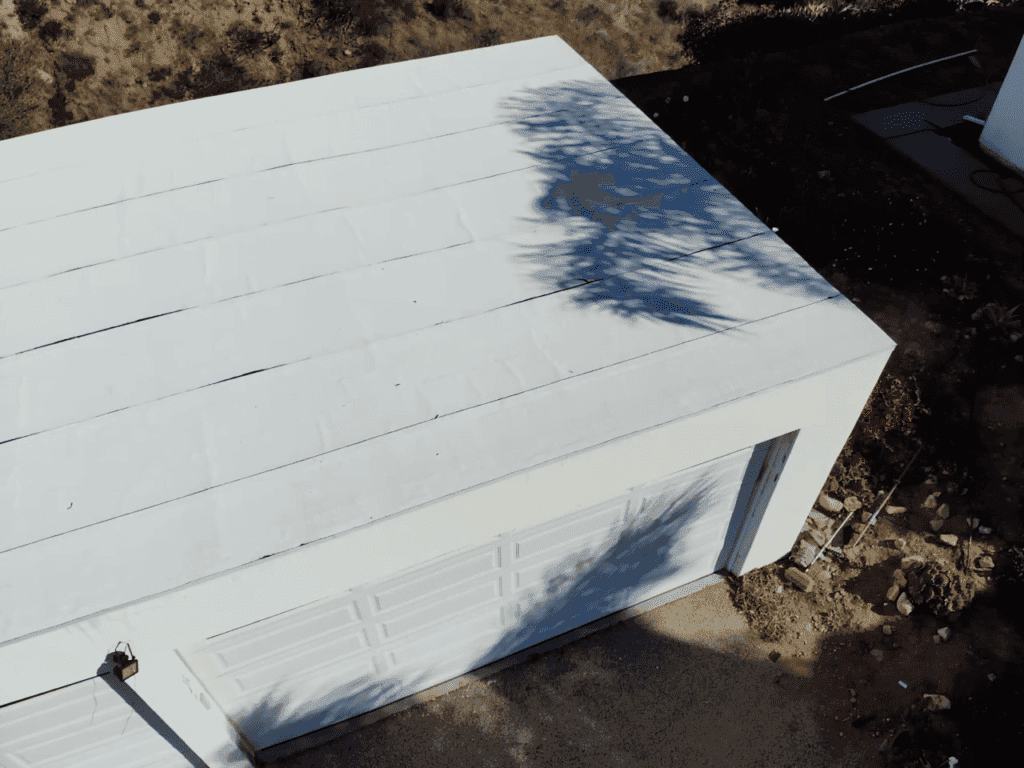 How Can You Know That Your Flat Roof Needs Roof Replacement?
Your flat roof may need replacement if you notice any of the following signs: 
Extensive water pooling

 

Persistent leaks and moisture

 

Splits, cracks, and tears on the roof surface

 

Flashing pulling away from roof edges

 

Severe damage to the roof's top coat

 
Is roof replacement the only solution, or can roof repairs and re-coating help extend your roof's function for a few more years? The qualified, experienced contractors of Golden Coast Roofing can examine your roof and give you an accurate assessment of your roof's condition. We also offer roof waterproofing services in Sherman Oaks.
Why Property Owners in Sherman Oaks Love Golden Coast Roofing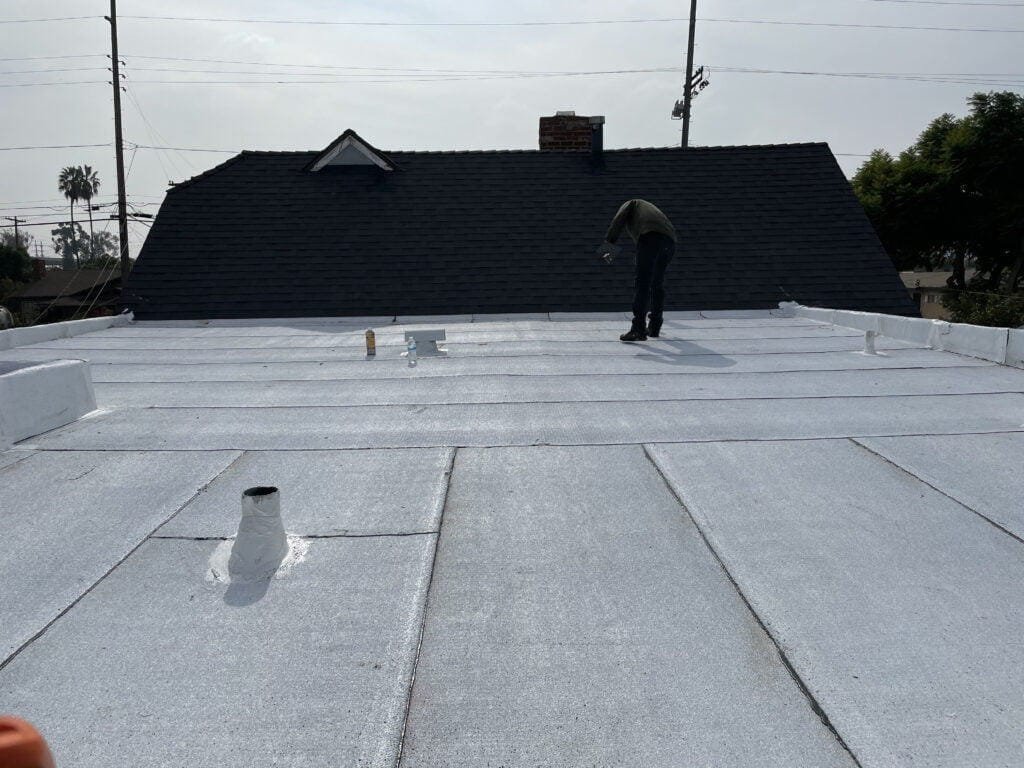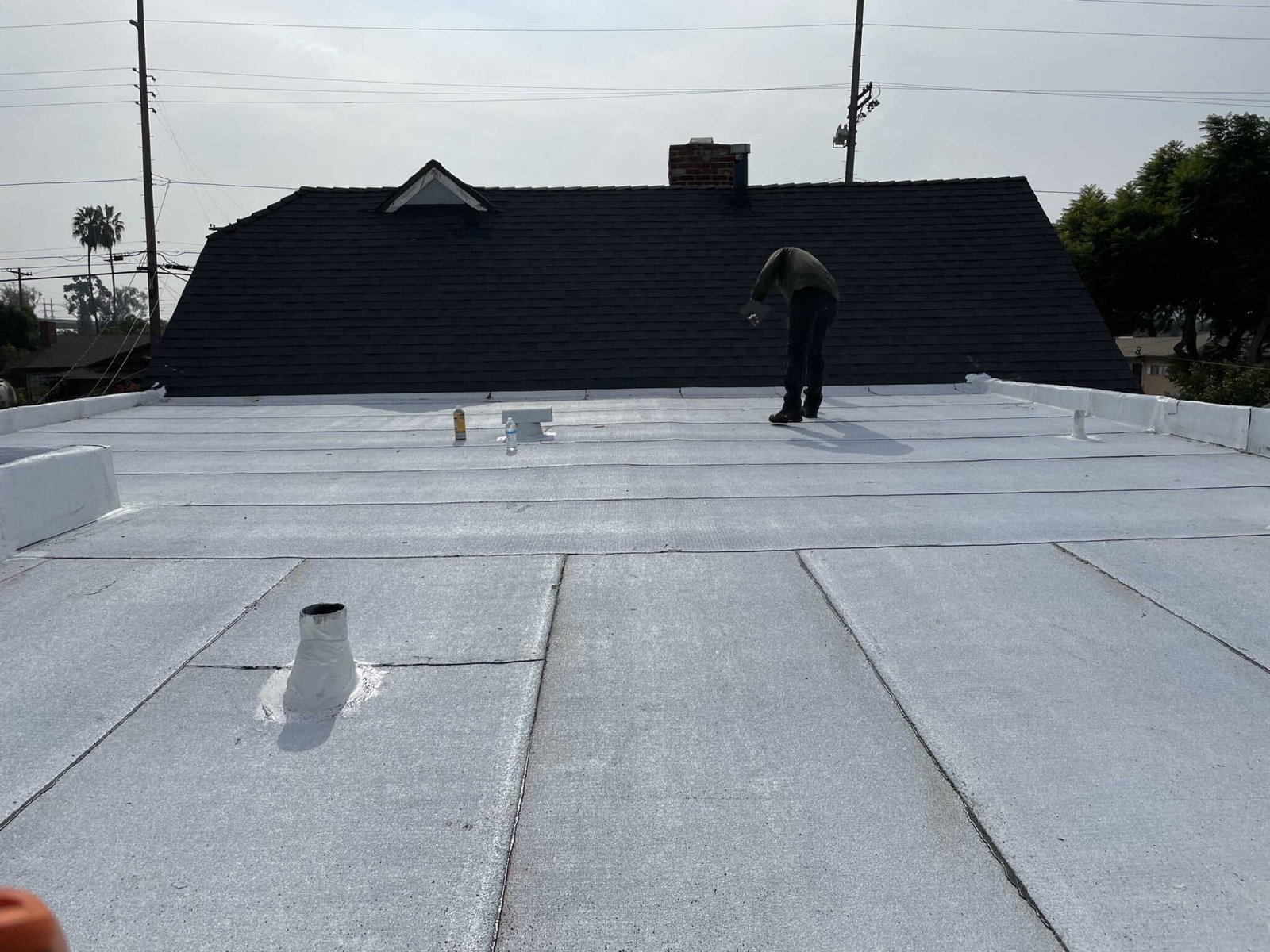 There are many roofing contractors in Sherman Oaks and San Fernando Valley, so why should you choose our flat roof replacement company?
Licensure.

We are fully licensed roofing contractors.
Efficiency.

We provide quality work and always strive to improve our services.
Comprehensive service.

We handle roof repair, roof replacement, and roof installation on any scale.
Flexibility.

Golden Coast Roofing is ready to serve any type of property, including residential roofing and commercial roofing, warehouses, and office buildings.
Satisfaction guarantee.

If you notice any issues after our team finishes working on your roofing project, just give us a call and we will address any problem right away.
Don't wait until roof damage leads to significant structural harm. Contact Golden Coast Roofing for a free quote now.
Golden Coast Roofing — Sherman Oaks' Flat Roof Replacement Expert!
Since its launch in 2020, Golden Coast Roofing has become a leading flat roof replacement company in Sherman Oaks and the LA metro area. Our professionalism and commitment to our clients' needs make us stand out among other local roofing companies. 
Whether you need a total roof overhaul, localized roof repairs, or maintenance services, Golden Coast Roofing is your go-to flat roof replacement company. Request a roof replacement cost estimate by calling 213-295-6541 today.
Flat Roof Repair in the LA area
The remarkable growth rate of flat roofs is attributed to the many benefits a flat roof offers. Amongst them is their uncomplicated structure at a price cheaper than other roofing alternatives. Not only that, but the best LA roofer is also sure to say that a flat roof is perfect for the LA roofing market. This is perhaps why so many contractors are installing flat roofs.
Many of the spaces needing a roof cover, such as a recreational area, outdoor storage area, or extension of an existing building are suited to a flat roof. A flat roof is also very durable and will last many years. As it gets older, the exposure to the outside conditions may require a flat roof repair to be done in the LA area. In this instance, it will be advisable to consult with a registered flat roof repair company nearby.
Flat Roof Types and Materials
Waterproofing and durability are two of the main requirements of a flat roof. In addition, materials used should the heat resistant, not too heavy, easy to use, and long-lasting. Given the exposure to winter and summer conditions, it means that all the materials used by a flat roof contractor must be of superior quality.
Flat Roof Types
The different flat roof types all display their own characteristics, and a flat roofer can choose from a number of different materials.
A single-ply polymer membrane roof, which has excellent durability and temperature resistance, usually made of EPDM rubber.

A PVC roofing membrane that has many good flat roofing characteristics including sturdiness, is lightweight, easily installed, and repaired.

BUR (Built-up roof) which is easy to repair using a tar and gravel mixture layered provides excellent waterproofing

Modified Bitumen, which when used with BUR, gives extra protection and durability to a flat roof. It provides well over large areas and is a low-maintenance roof covering.

TPO membrane is a covering gaining in popularity. It can be welded at the joints which is good for waterproofing. It is also a cost-effective roofing option.
Flat roof materials consist of an array of materials that are proven for flat roofing construction and maintenance in all conditions. These are:
The membrane used must be suitable for roofing purposes.

Resin and primers with recognized reliability for waterproofing and joint security.

bituminous cover material

effective drainage components
What are the Benefits of a Flat Roof Repair?
There are several benefits of a flat roof when it comes to maintenance and flat roof repair.

By keeping a flat roof in good condition, its lifespan will be extended.

Being flat means that it is an easy roof to access and work on. This means that a flat roof contractor will be able to locate and expedite the repair easily when required. This makes the problems easy to identify.

The materials used for flat roof repair are cheaper and readily available.
Common Problems Encountered with A Flat Roof are:
Blisters and cracks may form due to normal wear and tear and age. These can be repaired using a sealed membrane over the damaged area.
Water accumulation of the flat roof when the roof warps. Damage can be caused by weather conditions such as hail, heavy rain, or snow. Sagging may result, and a flat roof specialist will be needed to assist with a flat roof repair.




Occasionally flashing may get damaged or fall off and the roof could start leaking in that area. Instead of incurring further damage to the flat roofer, an immediate fix is necessary.
How to Perform a Flat Roof Repair
Flat roof materials are durable and long-lasting. However, there are occasions when a flat roof wears in places that will require a flat roof repair. Done in time, a flat roof repair company will inspect and fix the problem. It's best that this is done before the problem escalates, as this could result in a flat roof replacement, which is something that is wise to avoid.
In going about the flat roof repair, the flat roof repair specialist will involve a number of steps:
This is done by a flat roof repair company which would get onto the flat roof and identify exactly what the root of the problem is. Depending on the severity, it may be necessary to remove some of the roofing materials that are damaged.
The purpose of doing so is to assess whether there is any further damage beneath the roofing surface, on facias, or on roof beams.
Roof surface and support structure repairs
Depending on the extent of the damage the flat roof may need surface repair or support structure repair. Here new roofing materials will be required. The flat roof contractor is likely to use replacement asphalt roofing and a combination of sealant materials such as a built-up roof membrane, self-adhesive membrane, and bitumen. This requires careful, and sometimes intricate workmanship.
It is just as critical to make certain that the project is properly completed. Checking that seals are watertight and that adequate drainage is in place, will help extend the longevity of any new installation.
Flat roof repairs can nonetheless involve extremely complicated and time-consuming tasks at times.
While the best LA roofer will assure the homeowner that the job has been done to the required quality standards, it's best to perform the checks needed before the contractor leaves. This includes an inspection of the flat roof repair and testing that waterproofing is effective.
What is the best way to keep my flat roof in good condition?
Doing preventive maintenance is the best way, as well as doing routine inspections and removing any debris from the roof. Use a flat roof specialist to conduct an inspection once or twice a year.
Which is the best membrane material to use for a flat roof?
A flat roofer that knows would tell you that there are two good choices: Both EPDM and TPO are trusted membrane roofing materials that are affordable and easy to work with.
What is the lifespan of a flat roof?
A flat roof that uses EPDM can last as long as 50 years. Its flexible nature and good resistance help keep maintenance costs low and a life span long. No wonder there are so many keen flat roofers around.
How do I find the right flat roof repair company in the LA area?
Read reviews and make sure that the company chosen has a good track record and flat roof experience. Ask for references to check for yourself.