Flat Roof Replacement in Los Angeles
While a flat roof in LA may not be as common as a tile or shingle roofs, their distinctive style has a definite place in residential and commercial roofing applications. Flat roof installation is quick, and flat roof repair is also quite simple, making a flat roof an ever-increasing choice of roofing.
In the case where a flat roof replacement is needed, a flat roof expert will be required to assess the structure and work involved to give an idea of the extent of the costs involved. As a flat roof has no slope, drainage and waterproofing are vital aspects of a successful flat roof installation, and the materials used may have to be superior to other styles of roofing.
It is important to understand the benefits, and the steps required to do a flat roof replacement and have an understanding of the different flat roof options available. It could be that the existing roof is showing signs that flat roof replacement may be needed, but before incurring that expense, it is good to understand them fully to find out is it is a worthy investment.
Benefits & types of flat roofs
Flat roofs may be quicker to install and are considered more energy efficient than other roofs. Other benefits include lower maintenance with less flat roof repair required, and lower installation cost depending on the choice of materials used. Commercial roofing is often better suited to flat roof replacements, as they cover large expanses.
The installation time and cost will depend on the type of flat roof chosen, and there are several choices. In a warm climate like LA, a flat roof replacement should offer maximum thermal efficiency. Ask a flat roof expert about the types available.
The placement position of the insulation will influence the cost and the airflow and moisture extraction in the roof. Cold or warm flat roof types or a compact hybrid version of both are popular choices of a flat roof when looking at a flat roof replacement.
The insulation and waterproofing methods on tapered flat roofs and inverted flat roofs provide good drainage and water resistance options for a flat roof where this is a necessity.
The same can be said for a curved flat roof which has a stylish gabled look while offering excellent draining too because of its sloped effect.
A green flat roof is top of the range, with outstanding drainage properties, and is an excellent investment in a commercial flat roof replacement while working in a residential flat replacement as well.
The choice of the type of flat roofs mentioned above used will also depend on whether it is for a commercial flat roof replacement or a residential flat roof replacement.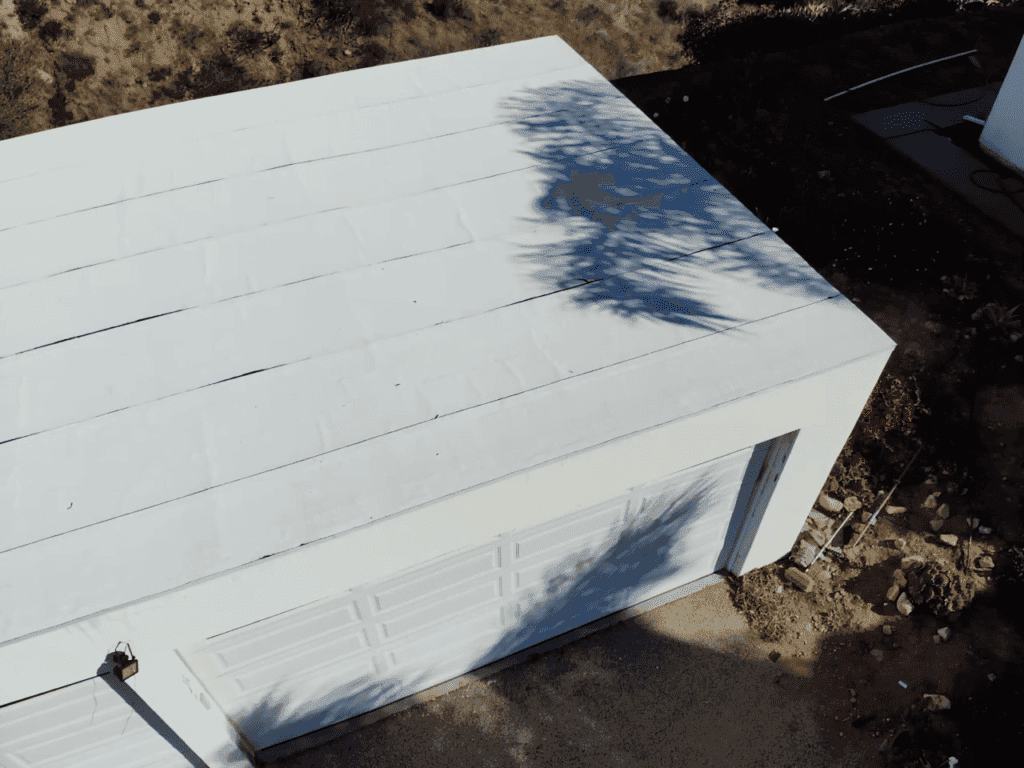 What are the Signs of Needing Flat Roof Replacement
As signs of wear and tear appear, a flat roof expert should be called to assess the need for flat roof repair or whether a flat roof replacement is necessary. Wear and tear could be curling shingles or broken tiles on the surface of the roof. An area of sagging or evidence of leaking is also a sign that the roof is requiring attention rather urgently.
Whatever the signs, a thorough inspection must be done to obtain advice.
Flat Roof Replacement Process Step by Step
The first step is to get in a flat roof expert for advice. Doing a DIY flat roof without the prerequisite experience is ill-advised. 
Once the roof evaluation is complete, the style is chosen, and the cost is known, before proceeding, and, dependent on the location, a building permit could be needed for the flat roof replacement. When a flat roof repair is required, the removal of old roofing materials may be necessary. Flat roofing should not be placed on old or rotting roofing materials, and they may first need removal and disposal. However, if the existing roof is still sound, a further flat roof benefit is that an overlay on the existing roof can be done instead of having to pull it off. 
Using specialized tools such as a roofing hammer, roofing nail applicator, utility knife, roof cleaning equipment, and moisture detection tools, the flat roof expert works with roof-specific materials such as EPDM, modified bitumen, GRP, fiberglass, rubber, or built-up tar to commence installing the flat roof.
Drainage is one aspect of a flat roof that needs special attention, as done incorrectly could cause untold problems. Therefore good drainage, accompanied by adequate ventilation is what is required when doing a flat roof replacement.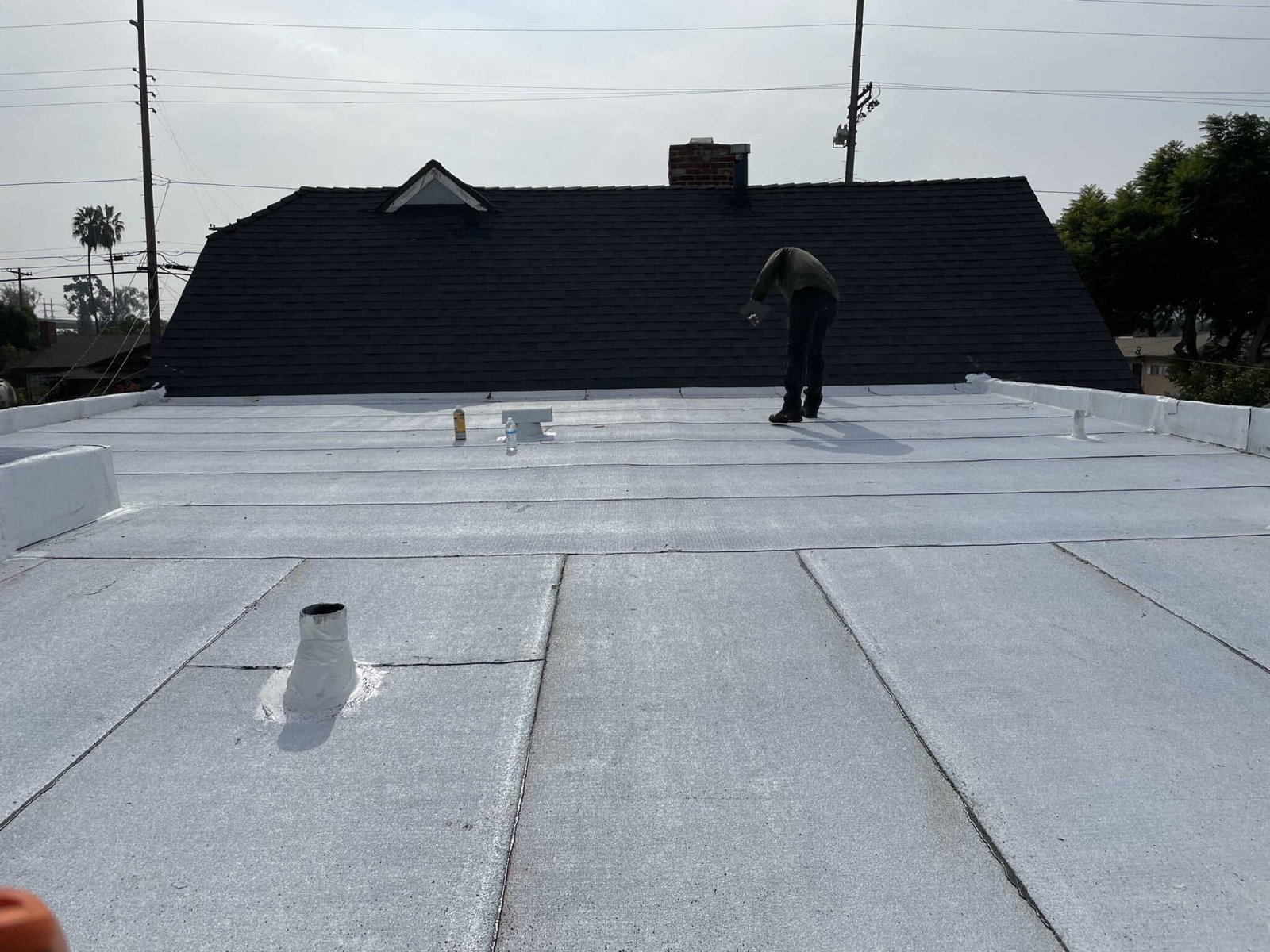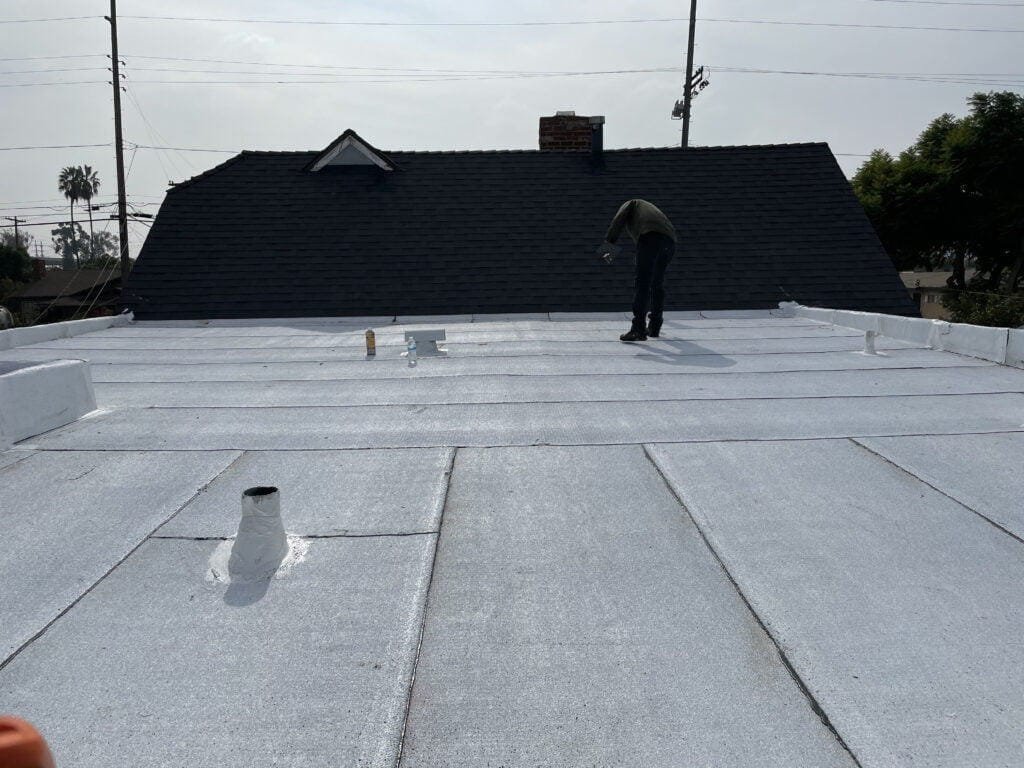 When is the best Time of the Year to do a Flat roof Replacement?
Naturally, during the dry months would be best to perform a flat roof replacement as the existing roof may need to be removed. Some materials used on a flat roof installation, like glass-reinforced plastic (GRP) can only be used on completely dry days.
However, depending on the extent and complexity of the job, a team of flat roof professionals should be able to install and waterproof a flat roof in the rainy season by keeping a close eye on the weather and choosing consecutive days where no rainfall is predicted.
How Much Time is Needed to Replace a Flat roof?
A real benefit of flat roofing is the short time it takes to install a flat roof. A residential flat roof replacement is normally a smaller job than a commercial equivalent and can be completed in five days.
Installing flat roofing is quicker than other types of roofing. In instances where the underlay must be removed and a new one installed, the flat roof expert and crew will need more time compared with simply putting a flat roof on an existing underlay.
Considering a flat roof Replacement? 
Don't take shortcuts when thinking about installing a flat roof. This is a job for the experts. Golden Coast Roofing has a well-trained roofing crew that is equipped with all the right resources to guarantee a professionally built flat roof. Contact them for advice.
Q & A Flat Roof Replacement
Is flat roofing suited to Los Angeles conditions?
Well, yes, flat roofs are popular in LA and with its dryer climate there is less chance of drainage problems too.
Does a flat roof require a lot of maintenance?
Fortunately, they don't. In the case of a leak, apply a sealant, and check the gutters after a downpour. This can be done once or twice a year as a maintenance check.
Is a flat roof replacement a worthy investment?
Yes, it sure is. A professionally constructed flat roof is an asset to a building and regular maintenance ensures a long lifespan.
What is the lifespan of a flat roof?
The answer lies in the choice of materials used, and using superior materials to do flat roofing should give a roof life of at least 50 years.