Commercial Tile Roofing adds Value to a Business
Upgrading your commercial property with a tile roofing renovation is a growing trend for local businesses. Repairing or replacing a commercial roof adds aesthetic appeal to any business property. Our experienced, professional and licensed commercial roofers can repair or replace your commercial tile roof. 
Tile roofs are generally durable and sturdy while maintaining visual appeal. In the long term they require minimal maintenance when installed professionally by a commercial roofer.
A commercial tile roof is especially suited to the LA climate, where it offers cooling benefits and resistance to salty air conditions. With the many designs available to business owners, we provide a wide a range of high quality and appealing material options. Our team of tile roofers are licensed experts in repairing or installing commercial tiles. 
What Types of Commercial Tile Roofs are There?
Concrete tile roofs give a classic, elegant appeal to a commercial property. Hard-wearing and cost-effective, commercial roof tiles using concrete are a popular choice. 
Shingle roofs provides a sophisticated finish to a commercial roof replacement and typically matches the Tudor, colonial, or Victorian look. Our team can also provide shingle roof repair services should they be required on your commercial property's roof. 
Metal tile roofing is less common but is also an option for a commercial roof. Durability and a range of colors are offered for this material type.
Lightweight concrete tiles can also be used and are applicable where there is a requirement for less weight on the roof underlayment.  
Benefits of Commercial Tile Roofing
Commercial tile or shingle roofs add value due to the following benefits:
Impress and attract new customers.
The distinguished look of commercial tile roofs elevate the status of your business helping bring in new customers and in creating an aesthetic appeal.
Creates a high-quality finish
Our wide range of classy concrete or clay tiles elevate the look of your commercial roof, giving it an expensive look and feel.
Your choice of commercial roof material can extend the lifespan of your roof, with rugged durability against extreme weather conditions.
Rot-resistant and insect damage-proof.
Using specialized materials can lower the chances of requiring a full roof tile replacement in the future due to insect or moisture damage.
Environmentally Friendly and Energy saving.
Many tiles used in commercial roof tiling are made of sustainable building materials and are recyclable. Also, they are energy-saving with ventilation properties.
The Commercial Tile Roofing Process 
When deciding to upgrade a commercial property with a commercial roof replacement contact our professional team for a quote. They will:
Inspect the roof and assess what needs to be done.
The supporting structure will be assessed and the type of tile to use will be recommended. A cost estimate will also be provided.
Roof removal and Underlay work
As a sloped roof is required for commercial tile roofing, the existing roof is removed, and the integrity of the underlay is strengthened to be able to support the tiles. After adding foundation materials, the roof will be ready for tiling.
Tiling should be carried out by a professional commercial roofer, who has experience laying shingle roofing and other types of tiles. Contact our team of licensed roofing professionals today.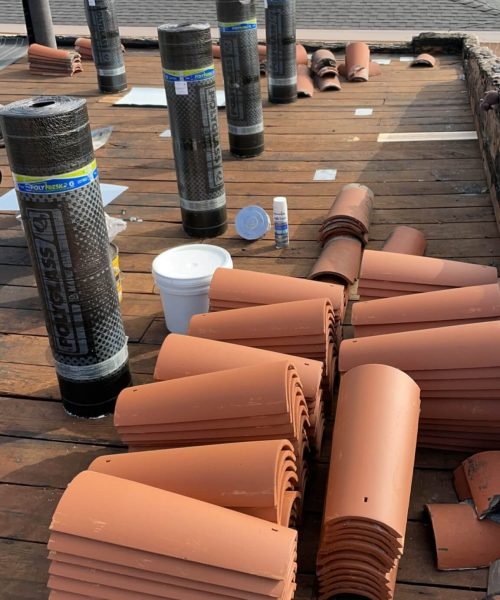 When is the best time of the year to tile a roof on a commercial property?
Summer is a good time to work on a roof in LA. There are less people in the office and the job can be done with minimal to no downtime. Our team work all-year round however, so if your roof is leaking or you're having trouble with a damaged roof, don't hesitate to contact us any time of year. 
Commercial Tile Roofing vs Residential Tile Roofing
Besides the fact that a commercial tile roofing area is likely to be much larger than a residential tile roofing area, both need to be installed and maintained by a roofer with experience. 
The main difference in the roofs is that a commercial roof may have two or more different roof types, like a flat roof and a sloping roof. A commercial roofer will be required to join the sloping and flat roof, where waterproofing is key. 
Business owners upgrading their roofs may require the tile roof replacement of an existing flat-roofed area. Installing commercial tile roofing thus requires certain structural work to support the heavy tiles, often to be signed off by an engineer. 
Residential tile roofing on existing houses from time to time requires shingle roof repair and tile roof repair to be ongoing as part of a maintenance program, which lengthens the life of a roof and lessens the chance of a tile roof replacement. 
Thinking of upgrading the aesthetic appeal of your business property?
When contemplating a business image upgrade, one of the best methods is a commercial tile replacement. Get in touch with a professional commercial roofer. Golden Coast Roofing is professional roofing specialist in LA.
What happens to the continued flow of work while a commercial tile replacement is being done?
The commercial roofer should work around this by fitting into the flow of work of the business so that work isn't interrupted.
Will this roof upgrade really improve my business?
Many business owners have expressed satisfaction with the change. Not only do they have a new good-looking roof, but several of their clients have remarked how classy it looks and feel positive about the Company.
Which tile type works best for a commercial roof replacement?
It depends on what look is needed from the commercial roof and the work required to carry the weight of the tiles. Shingle roof tiles are stylish, concrete tiles are tough and smart, and a metal time has its own particular designs. It's a personal choice really.
How does one know which commercial roofer is best?
There are some very professional commercial roofers in LA that can be contacted. Remember to ask for testimonials and decide from there.