Signs That a Tile Roof Replacement may be Necessary and What Action to Take
Tile roofing is durable and long-lasting. However, there comes a time when age catches up and a tile roof replacement is necessary. While this sounds like a drastic step, a tile roof replacement will last a long time and is a worthy investment.
Tile roof replacement should be implemented when it is clear that a tile roof repair isn't going to be adequate to cover existing roof damage.
The classic look of tile roofs and their solid appearance and durability are a good investment, and the quality of your roof is important for any type of property, residential or commercial.
Looking for some more information before you decide to replace your tile roof? We've got you covered with the information below.
Signs that a Tile Roof Replacement may be necessary
For many, there is a common belief that a tile roof will last indefinitely. Unfortunately, a tile roof has a lifespan. This lifespan will depend on many factors, such as weather damage and how the tile roof has been maintained over the years.
The integrity of the Underlayment
As a roof ages, its condition depreciates. Time, therefore, is a major indicator of whether a tile roof replacement will be necessary. From our experience many of the problems experienced are associated with the depreciation of the underlayment of the tile roof. In fact, there may be no discernable signs of tile roof damage on the surface, and problems beneath the roof tiles could go unnoticed for a long time.
These kinds of dormant issues include:  rotting wood, termite infestation, partial leaks or damage caused by previous improper installation.  
Concrete tiles, an alternative option
When it comes to longevity and value, concrete tiles are among the best roofing materials. Perks of concrete tiles include: 
Extreme Weather Resistance: 

Concrete tiles boast a Class A fire rating and resistance to freeze-thaw cycles, making concrete tiles a perfect solution for customers in areas with extreme weather. Concrete is also resistant to insects and rot and can withstand winds up to 150 miles per hour. Even better? Concrete tiles exceed seismic load requirements, enabling them to survive earthquakes.

 

Long-Lasting Material: 

With an average lifespan of 50+ years 

— 

a lifespan significantly greater than most common alternatives 

— 

concrete tiles will prevent the need for repeated roof repairs.

 

Eco-Friendly Alternative:

 Concrete tiles also provide an eco-friendly option for customers desiring a tile roof replacement. Given how infrequently tile roofs need replacement, they cut down on waste, and their thermal properties allow for reduced energy consumption. Moreover, concrete tiles consist of all-natural, recyclable materials.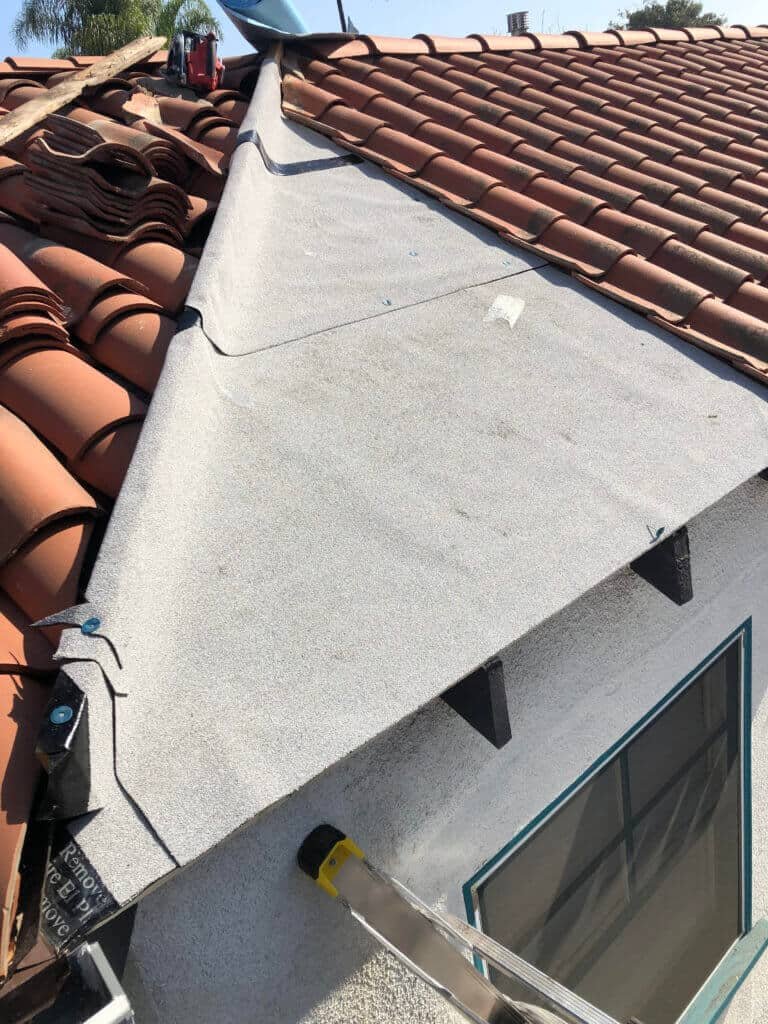 What are the benefits or replacing your tile roof?
Whether it is a tile roof replacement or shingle roof replacement, value will be added to your property. It is imperative that a tile roof replacement be implemented by a qualified tile roofer such as our team at Golden Coast Roofing.
Proper Installation
A professional tile roofing company will ensure that the entire roof is constructed according to best practices. This will include not only the tiles themselves but also the correct pipe and vent flashings, adequacy of ventilation and the quality of underlayment materials. They may recommend improved secondary flashing using soft metal flashings which may not have been used previously on an old tile roof. 
Regular Maintenance
A well-maintained tile roof will need regular inspection and tile roof repair (when necessary) which will prolong the life of a tile roof. This should be done by a licensed roofing company and is recommended for keeping your roof in good condition.
Steps in a Tile Roof Replacement Process
A detailed inspection by a tile roofing company is the first step to gauge if a tile roof replacement is necessary.
Complete re-roofing may be carried out using existing tiles, at the discretion of the roofing team.
Worried about a Tile Roof Replacement?
We offer 5 star-rated professional tile roof replacement services in LA and the surrounding areas. 
Q & A Tile Roof Replacement
There is a portion of the tile roof that is sagging. Does this mean that a complete tile roof replacement is necessary?
A reputable tile roofing company should be consulted for an opinion on this and if the area is localized it could be repaired without having to do a complete tile roof replacement.
There appear to be loose tiles on the roof after a big storm. Is it possible to do a DIY repair of them?
It is never recommended for non-professionals to move around on a roof as more tiles could get broken in the process. A tile roofing contractor has the expertise to advise and carry out roof repair or replacement when necessary.
There are a few stains on the ceiling indicating water leakage from the tile roof. What is the best way to sort them out?
This is potentially a big problem that if left unattended can result in extensive damage to the tile roof infrastructure. It's best to give us a call and we will provide you with a quote and a professional roofing service. 
The flashings on my tile roof are showing signs of decay and there are areas that may not be waterproof. What should be done?
Flashings that develop gaps where water can seep through can cause roof and infrastructure decay and must be fixed. Ask our professional roofing team for advice as there are other alternatives that provide good cover for these areas.
Is it possible to replace a tile roof with a shingle roof?
The choice is yours, but it may be possible to reuse tiles when carrying out a tile roof replacement. Consult us for an inspection and a quote and we'll provide you with professional advice.