The 7 Benefits of Shingle Roofing for Your Home in Sherman Oaks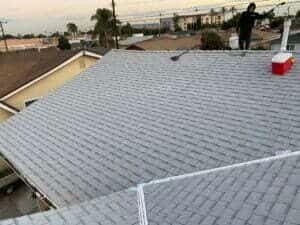 As a trusted shingle roofing company in Sherman Oaks, we help homeowners select the best roofing material type for their properties before providing a roof replacement service. We often recommend shingle roofing due to the wide range of benefits these roof types have to offer. This article looks at seven benefits shingle roofing provides for your home. 
Lightweight Roofing Material  
Shingle roofs generally have a light weight, making them easier and more affordable to install than other roofing types, such as concrete tiles. When our shingle roofing contractor installs a shingle roof, the existing structure typically doesn't require additional reinforcements, saving unnecessary costs. 
Multiple Design and Color Options  
Roof shingles are available in various materials, styles, and colors, and you can go with an option that fits your personal preferences and your home's architectural design style. For example, architectural asphalt shingle roofing is an affordable option if you want to enhance your property's aesthetic appeal and make it stand out in the neighborhood. 
Suitable for All Roof Dimensions  
If your roof has a unique shape and slopes with multiple sections, shingle roofing will provide you with the versatility you need. A shingle roof is also easy to install around roofing components, such as chimneys, skylights, and roofing windows, giving your roof a neat and finished appearance. 
High Resistance to Inclement Weather  
Some shingle roofing types can withstand severe weather, including winds with speeds of up to 100 miles per hour or more. Premium asphalt shingles have durable construction, and most of these roofs last up to 40 years with minimal fading due to exposure to the sun's UV rays. High-quality composite shingles can withstand hail and impact from tree limbs without denting or cracking. 
Excellent Insulation Properties  
The materials and layering of shingles contribute significantly to your roof's insulation. Installing a shingle roof will help maintain a comfortable indoor temperature, reducing your heating and cooling costs. The insulation properties of these roofs also reduce outdoor noise pollution entering your home. 
Recyclable Roofing Material  
Metal and asphalt shingle roofs are recyclable, which means that when they reach the end of their lifespan, manufacturers can use the materials in other products. When installing a shingle roof, you can have peace of mind that it won't end up in a landfill when you replace it after a few decades. 
Affordable Roofing Option  
Shingle roofing is generally affordable to buy and install. These roofs are durable with a long life expectancy, and you won't have to pay for a premature replacement. Shingle roofs also have a
relatively low maintenance requirement, eliminating the cost of expensive protective coatings.
As a residential roofing company, we often recommend shingle roofs to homeowners as the most cost-effective option. 
Do You Need a Shingle Roof Replacement in Sherman Oaks? Contact Us Today 
Whether you want to replace your old roof or build a new house, a shingle roof is one of your most viable options. Give our contractors at Golden Coast Roofing a call at 213-297-4293.
As a reputable shingle roofing company in Sherman Oaks, we can provide you with a complete shingle roof installation service.